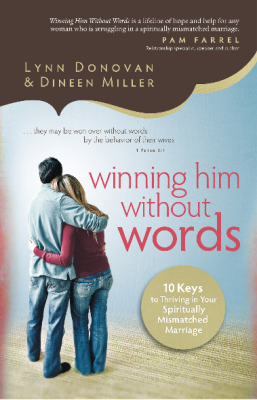 About the Book
Visit the Winning Him Without Words site!
Week after week, you sit in church…alone. You are one of many women across the country who are spiritually mismatched; committed to a spouse who does not share your faith.
You may feel abandoned by your spouse or forgotten by your church. You may feel like you have to live out your faith in survival mode, guarding the spiritual flame yet never feeling free to share it.
But don't lose hope! God wants you to thrive—not just survive. Winning Him Without Words presents 10 Christ-centered keys to thriving in your spiritually unequal relationship. In the pages of this book, you'll learn from real life stories how to:
Commit to Christian community,
Release your spouse to God's capable hands,
Find peace in your relationships with Christ and with your spouse,
Continue your pursuit of a growing faith,
And to love your spouse with fresh enthusiasm.
God wants every marriage to exude peace and love, and Winning Him Without Words will help you to create that environment in your homes and thrive as God works.
An Introduction from the Authors:
Disclosure of Material Connection: Some of the links in the page above are "affiliate links." This means if you click on the link and purchase the item, I will receive an affiliate commission. I am disclosing this in accordance with the Federal Trade Commission's
16 CFR, Part 255
: "Guides Concerning the Use of Endorsements and Testimonials in Advertising."