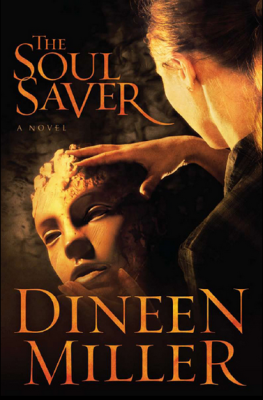 For a personalized signed copy, contact me through my contact page and I'd be delighted to send you a copy directly. Thank you!
About the Book
2013 Carol Award Winner
Meet Lexie Baltimore, who is in the supernatural battle of her life. In obedience to God's calling, Lexie uses her art and dreams to help others. But will she have enough courage to help herself when she becomes torn between her atheist husband and a godly man?
A widower and a father, Pastor Nate Winslow is drowning in darkness. Will he resist his treacherous assignment to win Lexie's heart, or give in to the attraction between them?
As events unfold, Lexie becomes entangled in a twisted plot. Can she overcome the evil assailing her, or will she yield to the dark side?
Watch the Trailer:
Reviews:
"Deep, compelling, a beautifully written story of faith, hope, and the saving power of love. Dineen Miller hits home with this debut novel. Soul Saver will stay with you for days after reading the last page."
— Tosca Lee, NY Times bestselling author of Havah: The Story of Eve
"Never before have I felt as if I were seeing someone's life play out across a page until I read Soul Saver. Dineen Miller's prose had me sighing at the beauty of her word pictures. This is not a book to be missed – Life changing!"
— Robin Caroll, author of the Evil series and Injustice For All
"When you combine stellar writing, intriguing characters, and a fascinating plot the result is a story like Soul Saver. It's the kind of novel I wish I had written."
— James L. Rubart, bestselling author of ROOMS, Book of Days, and The Chair
"With her finger on the pulse regarding a delicate and heart-rending topic—spiritually mismatched marriages—Dineen Miller pens a stunning story of temptation, betrayal, and ultimately—redemption. Miller has a penchant for reaching deep past the superficial issues to the wounded heart that lies at the bottom. Beautiful prose mingles with spine-tingling supernatural elements in The Soul Saver to create a work of art. Talented Miller surges onto the fiction scene with the grace and skill of a true storyteller!"
— Ronie Kendig, author of The Discarded Heroes series
Disclosure of Material Connection: Some of the links in the page above are "affiliate links." This means if you click on the link and purchase the item, I will receive an affiliate commission. I am disclosing this in accordance with the Federal Trade Commission's
16 CFR, Part 255
: "Guides Concerning the Use of Endorsements and Testimonials in Advertising."