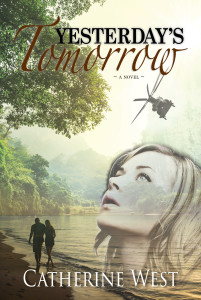 Today I have the pleasure of interviewing Catherine West, author of Yesterday's Tomorrow and Hidden in the Heart—two beautifully written stories that I've had the pleasure to read. Now this won't be your typical interview as Cathy and I are going to talk about her cover for Yesterday's Tomorrow.
This is a book that was out previously under a different cover. I've had the pleasure of working with Cathy in the past so when she contacted me about redoing her cover for Yesterday's Tomorrow, I said yes! I love this story and love how the cover came together.
Cathy, how is the second release of Yesterday's Tomorrow different from the first time?
The big difference, of course, is that I'm publishing the book myself as an Indie author. After making the decision to ask for the rights back on my two books, my agent and I decided that we'd make sure we were putting out the best possible product, so I worked with a professional editor to really take the story to the next level. There aren't too many big changes within the book, mainly things like plot tightening and a higher quality of writing than the first time around. I'm hoping readers will enjoy it just as much if not more, and of course the goal is to find a lot of new readers as well.
Did you have a mental image in mind when we first started to discuss your cover?
I knew I wanted something that would convey more about the book, particularly the romance aspect. I still wanted to keep the feel of Vietnam, but I really liked the idea of a couple, and of course the images we found are perfect. 🙂
(These are thumbnails of the individual images used for the cover. Images were purchased from iStock.com and 123RF.com and fall under standard license usage.)
That's one of the parts I enjoyed the most, Cathy. I loved that we worked together to find the right imagery. Your input was so key to the final cover and helped me capture what you envisioned. What part of the redesign process did you enjoy the most?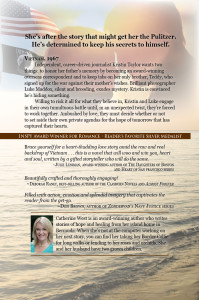 I loved the fact that you'd read the book so you were familiar with the story. I think that made it easier for us to agree on which direction to go, and for you to understand what I wanted almost at once. It was really cool to see more of a story coming out as the cover began to take shape.
I loved that too! Your stories are so good—so full of depth. Your characters are so real too. What do you want readers to take away most from your cover and your story?
My hope is that we've created a visually pleasing image that invites people to check out the story. I think we have. The story itself speaks of forgiveness, redemption and second chances when you least expect them. Knowing God has been there all along, even when you didn't believe it – that's a really important thread here. God never gives up, never goes away, and He always comes through.
So true! Amen! Thank you, Cathy. 
Friends, if you want a chance to win a Kindle copy of Yesterday's Tomorrow, leave a comment!
Catherine West is an award-winning author who writes stories of hope and healing from her island home in Bermuda. Her first novel, Yesterday's Tomorrow, released in 2011 and won the INSPY for Romance, a Silver Medal in the Reader's Favorite Awards, and was a finalist in the Grace Awards. Catherine's second novel, Hidden in the Heart, released in September 2012, was long listed in the 2012 INSPY's and was a finalist in the 2013 Grace Awards.
When she's not at the computer working on her next story, you can find her taking her Border Collie for long walks or tending to her roses and orchids. She and her husband have two grown children. Catherine is a member of American Christian Fiction Writers and Romance Writers of America, and is represented by Rachelle Gardner of Books & Such Literary. Catherine loves to connect with her readers and can be reached at Catherine@catherinejwest.com
You can also connect with Cathy at  her Website, Facebook, Twitter, GoodReads, Pinterest, and Google +.